Lake Shore Animal Hospital is a full service large and small animal facility. Our honest and compassionate staff provide high quality veterinary care for animals great and small.
Types of Animals Seen:
Dogs
Cats
Horses
Cattle
Sheep
Goats
VETERINARIANS
Dr. Zach Raptosh is a Nampa Idaho native, and his family has been a part of the Nampa community for four generations.  Dr Zach has enjoyed caring for animals as long as he can remember.  As a boy, he raised cattle and horses and cared for the pets on his family's small farm located south of Nampa.
Dr. Zach has turned his love of animals into a career. After high school, he took a job working for local veterinarian Jay R Green in Star, ID. It was during that time that he developed his passion for veterinary medicine.  He is a graduate of Boise State University and attended veterinary school at Colorado State University. In 2014, Dr. Zach built Lake Shore Animal Hospital from the ground-up to be able to practice quality veterinary medicine in the community where he grew up.
Dr Zach enjoys the variety of mixed animal medicine. In his spare time, he enjoys spending time with his family and pets, the outdoors, team-roping, and raising beef cattle. This year, he welcomed his first embryo-transfer calf to the farm. He can often be seen driving around town in his vet truck with his Mini-Aussie's, Carl and Lucy by his side.
---
Dr. Katelin came to us in July 2018 as an associate veterinarian. She claims both Idaho and Nevada as home. She has always had a love for animals, which led her to pursue a Doctor of Veterinary Medicine from St. George's University.
She was drawn to back to Idaho following her clinical year with Auburn University to carry out her externship here at Lake Shore Animal Hospital. Katelin is a small and large animal veterinarian who enjoys hunting, fishing, and playing with her border collie, Dodge.
---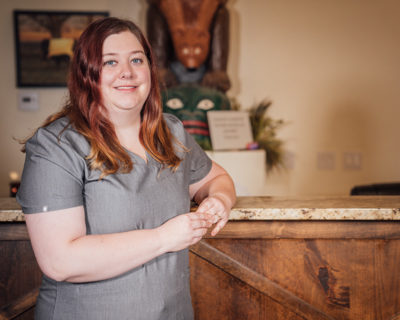 Dr. Merik is our newest vet, who started in December 2019. Dr. Merik Metos graduated from Garden Valley high school in 2006. She grew up drag racing corvettes and volunteering at the local Cascade Veterinary Clinic. Her undergraduate and veterinary school studies were completed at Washington State University in 2013. After graduating, Dr. Merik worked at Best Friends Animal
Sanctuary in Kanab, Utah for over two years. At Best Friends, she performed high-volume spays and neuters for both small animals and exotics and worked primarily with wildlife and exotic animals.
After marrying her husband, Dr. Merik moved back to Boise, Idaho and worked as an evening-only emergency doctor at All Valley in Meridian for two years. Dr. Metos has particular interests in exotic/wildlife medicine and surgery, orthopedic, and homeopathic medicine. Dr. Merik also practices apiary medicine (honey bees) with her husband, who is a beekeeper at their one-acre orchard and garden in Nampa. When she is not working, she is golfing with her husband or hiking with their four dogs. We are so happy to now have her here with us!!
TEAM LAKE SHORE!